Outdoor folding beer furniture with transparent paint, painted legs with round shape for extra stability. No one, both on the Internet and on the market, offers such robust furniture at this price.
This is the right solution to avoid to rent every year expensive brewery furniture (if you are an association, for example).
OFFER 10 PCS - 10 Tables / 20 Benches

FOLDING BREWERY FURNITURE LENGTH 220 CM

- Fir wood brewery furniture
- Eound legs for extra stability!
- Important: table width 80 cm (the correct width to place two trays)
- 2,7 cm tables
- Safety mechanism closing and locking legs
- Legs are locked even when the benches and table are closed to be stored
- legs in black painted iron
- Transparent wood paint for outdoor use
- Table size 220 x 80 x 74 cm (length, width, height from the ground)
- Bench size 220 x 25 x 47 cm (length, width, height from the ground)
- Total weight 41 kg
- Colour: wood for tables – black for legs
- Our set includes table + two benches as shown in the photos
- FSC certificate (wood from forests managed according to sustainability criteria from a socio-economic and environmental point of view)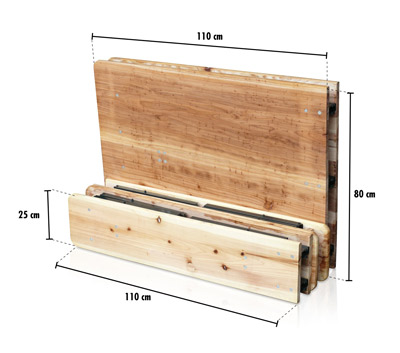 Salva
Salva
Salva
Salva
Salva
Salva
Salva
Registered users can share their experience with this product. Register to access all of the benefits reserved to registered users or click on login if you are already registered.