ZAVOR is an outdoor polypropylene table which is perfect for bars and public facilities, but also for private customers who are looking for a professional product that does not take up too much space. The table has a parasol hole, it is very stable and affordable, but also certified for a professional use, for its robustness and reliability.
The table is Made in Italy and of Greenpol, a patented plastic polymer, which does not release any plastic odour and is very durable.
The product is in stock and can be immediately shipped as soon as we receive the payment with express delivery.
Features:
- Made of pure Greenpol (patented)
- Size of the surface: 70 x 70 cm height 72
- Made in Italy
- Outstanding design
- Certified for public use
- Suitable for outdoor use
- You can add sand to the central pole to increase the stability of the table
- Extreme stability
- Very robust
- Complying with ROHS, ECHA and REACH standards
- Certified for professional use
- It can be easily disassembled and reassembled
- Weight: 6.20 kg (thick and strong material)
- Available colours as selected.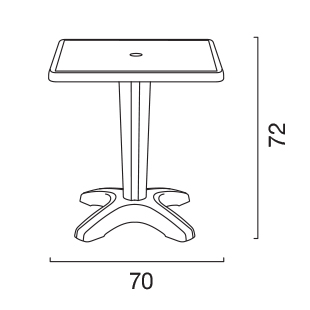 Registered users can share their experience with this product. Register to access all of the benefits reserved to registered users or click on login if you are already registered.