Woven Polyrattan Outdoor Furniture Set SEATTLE for your bar
Seattle synthetic rattan lounge furniture is ideal if you are looking for top quality and large garden furniture, including and L-shaped sofa and ultra-padded cushions. It is suitable to furnish both a veranda and a garden and outdoor spaces in general, since its internal structure is made of aluminium and will not rust over time.
- An L-shaped sofa and a coffee table, for 3-4 people
- Supplied with removable cushions, both for the seat and for the backrest, and extra padded cushions
- Ideal for public facilities
- Both for outdoor and indoor use
- All cushions provided are perfectly sewn, beaded and 10 cm thick, while back cushions are15 cm thick!
- The height of the cushion is about 3 times higher than that offered by our competitors
- The internal structure of the product is made of aluminium, so it will not rust over time
- Elegant aluminium effect legs
- High quality woven Polyrattan
- The coffee table has a 5mm glass top, perfectly packaged in cardboard
- Requiring reduced space since the coffee table can be disassembled at the end of season
- Easy to assemble (the product comes disassembled to ensure minimum space requirements)
- Instructions are provided in the package and the product can be assembled in a few minutes.
- One of the few L-shaped sofas sold on the Internet with a detachable piece for maximum comfort
- Please note that the colour of this furniture matches perfectly with our MALESIA sun loungers with cream coloured cushions
- The colour of the rattan is also the same as garden containers sold on our website
- L-shaped sofa size 155x207x67 cm (width, depth, height from the ground)
- Coffee table size 68x68x31 cm (width, depth, height)
- Note: all cushions shown in the pictures are included in the offer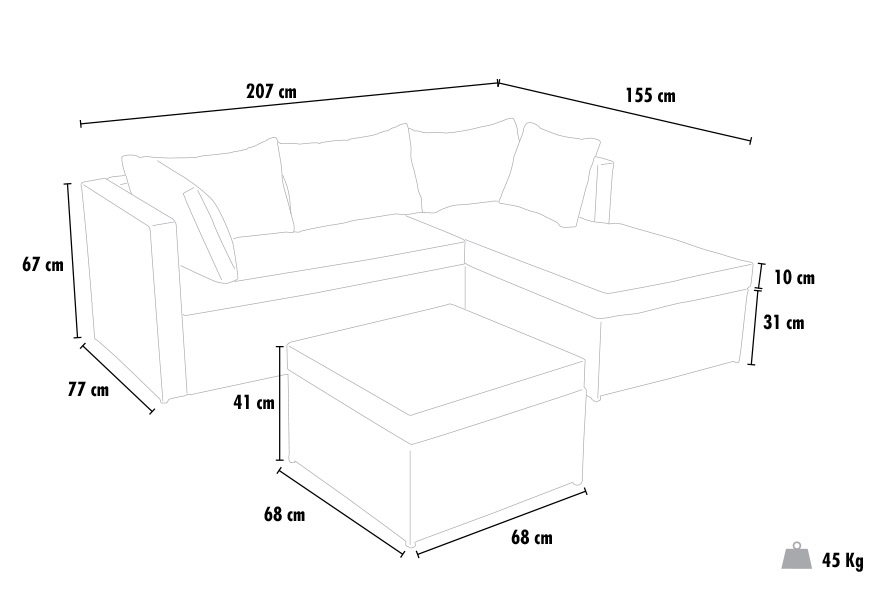 Salva
Salva
Salva
Registered users can share their experience with this product. Register to access all of the benefits reserved to registered users or click on login if you are already registered.