BEACH LOUNGER "SANTORINI"
Excellent quality beach lounger with AISI 304 stainless steel screws, washable textilene fabric, suitable for gardens, pools, terraces.
Take a look at the features of these loungers and compare them to those of other similar products on the market!!!

BEACH LOUNGER "SANTORINI"

- Sun lounger for beach, gardens, pools
- Anodised aluminum frame
- 3-position reclining backrest, with cord
- New finger-safe opening system
- Diameter structure 45 x 42, thickness 1.2 mm
- Washable Textilene fabric
- Adjustable Canopy
- Size open lounger 182 x 72,5 x 40cm
(length, width, height from the ground)
- Size closed lounger 153 x 72,5 x 11 cm
(length, width, thickness)
- Small marks on the frame are due to the material used
- Weight 6 Kg.
- Note: AISI 304 stainless steel screws, Nylon details
How to set the 3 positions: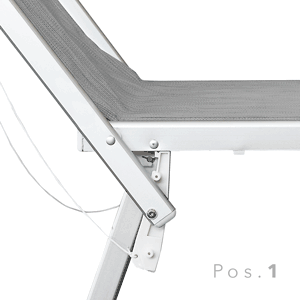 Salva
Salva
Registered users can share their experience with this product. Register to access all of the benefits reserved to registered users or click on login if you are already registered.