Outdoor footpath solar wall lamp, with an embedded 1 Watt solar panel, 50 lumens of warm LED light output and motion sensor.
HOW DOES IT WORK: The 1Watt solar panel (with an efficiency of 17%!) allows you to recharge the 7.4 WH lithium battery which is located inside the solar wall lamp. The lamp uses energy stored in batteries during the day to stay on at night.
It can be used both as a footpath light and as a wall lamp to illuminate all the areas of a garden or outside that would otherwise remain in the dark.
Besides saving energy then, you will also save time for installation. With two screws and two minutes, our Shark lamp is already ready for use, without the intervention of an electrician.
The name SHARK is given by the special design of this solar wall, which is unique in its kind.
Technical features:
- Solar panel: 1 Watt
- Maximum brightness: 50 lumens
- Light colour: Warm
- Internal battery: Li-ion 7.4 WH (Lithium)
- Material: Aluminium
- Patented design
- Light sensor: Integrated
- The light stays on continuously
- Size: (height x width x depth) 13 x 20 x 7cm
- Protection degree: IP65
- Like all our other solar products, it comes with CE, ROHS, FCC certifications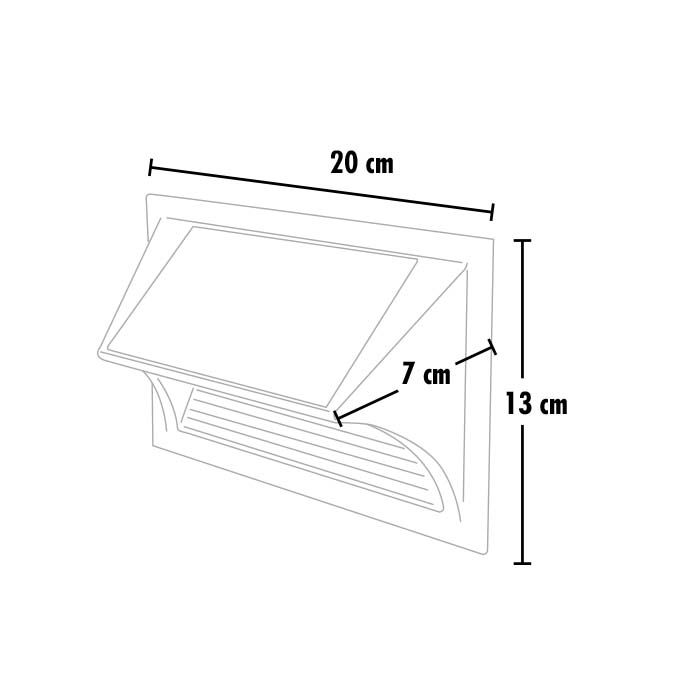 Salva
Registered users can share their experience with this product. Register to access all of the benefits reserved to registered users or click on login if you are already registered.