FARM HOUSE CHILDREN'S PLAYHOUSE
Quality playhouse at the best price on the market! The most gorgeous playhouse for kids! A real villa! Fully certified (we offer only quanlity and safe products), the plastic is certified against UV rays, so it does not fade over time!
It can contain up to 5 children, but is also ideal for children playing alone.
Thanks to its large interior spaces, its doors and windows, it is perfect to stimulate the imagination of your children for new, creative games. CE marking. This product complies with European safety standards EN 71-1-2-3-8-9. The footprint is reduced, purchase a SAFE AND CERTIFIED product for your kids or as a gift!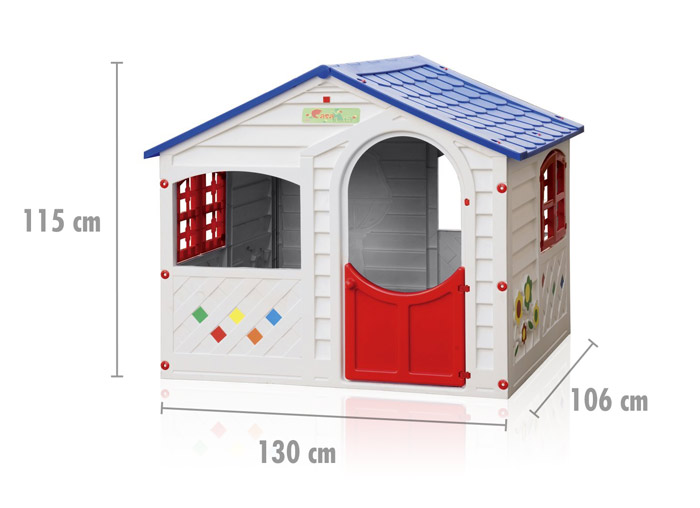 FARM HOUSE CHILDREN'S PLAYHOUSE
- Plastic Playhouse with anti-UV treatment
- Certified to be used by children, certified safety and plastic
- All certificates are available upon request
- Door and windows can be opened to foster imagination
- Two windows and saloon door to play with
- Fun colours and shapes

- Not too bulky, ideal for small spaces 

- Ideal for public facilities
- For outdoor and indoor spaces

- Structure with no metal parts, so it does not rust! 

- Small footprint 

- Easy to assemble, no need for any tools

- Instructions provided in the package
- The lowest price on the web, the price includes shipping!
- Size when in the box: 132 x 16.5 x 116 cm
- Playhouse size 130 x 111 x 115 cm
(width, depth, height)
- Colour: see picture
Salva
Salva
Salva
Salva
Registered users can share their experience with this product. Register to access all of the benefits reserved to registered users or click on login if you are already registered.