Synthetic poly rattan lounge furniture Positano, produced by Grand Soleil in Italy, with 2 chairs, a sofa and a coffee table, removable cushions included.
High quality furniture, with no metal parts that will rust (as for other similar products on the market), easy to assemble (about 5 minutes), no tools needed.
IMPORTANT: Unlike all other similar furniture on the market, made of woven poly rattan wearing out after a season, our poly rattan furniture, with a single weave pattern, does not wear out over time and does not loose its colour when left outdoor.
The poly rattan of this lounge furniture is also beautiful to see and delicate to the touch. In other words, it can not be compared with other products on the market, in terms of quality and design.
FREE shipping! GREAT DEAL!
4 SEATER POLY RATTAN LOUNGE FURNITURE WITH TABLE AND CUSHIONS
- 2 seater sofa, two armchairs, a coffee table
- Removable cushions included
- MADE IN ITALY by Grand Soleil Model Sorrento
- Also ideal for public facilities
- For outdoor and indoor spaces
- Structure with no metal parts, so it does not rust!!! 

- Synthetic poly rattan (polypropylene), no treatment needed!!
- Small footprint because it can be disassembled at the end of the season
- Easy to assemble, no need for any tools 

- Instructions provided in the package
- The lowest prices on the web, shipping is included!!!
- Size when in the box 120 x 80 x 58
- Sofa size 129 x 61 x 77 cm (width, depth, back height)
- Chair size 71 x 61 x 77 cm (width, depth, back height)
- Table size 61 x 53 x 42 cm (width, depth, height)
- Choice of colours S7705J, S7705Y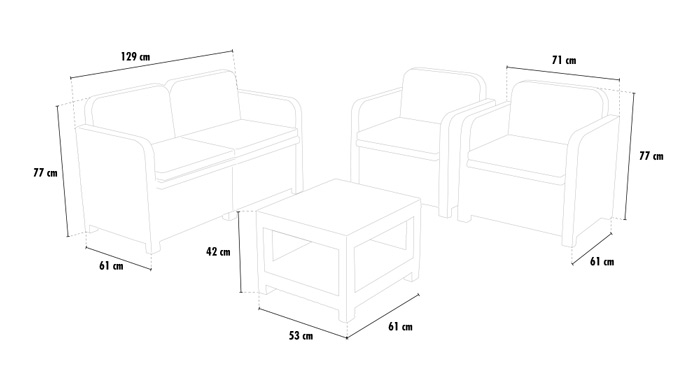 Salva
Salva
Salva
Salva
Salva
Salva
Salva
Salva
Registered users can share their experience with this product. Register to access all of the benefits reserved to registered users or click on login if you are already registered.